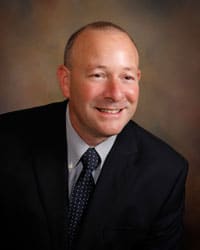 ---
Born and raised in the Green Spring Valley area of Baltimore County, Dr. Garden has remained a life-long local of this area. He received his Bachelor of Science degree from Temple University in Biological Sciences. While at Temple University, Dr. Garden was a faculty member and lab instructor in the department of Biology. Dr. Garden then received his D.D.S. degree from Howard University School of Dentistry in 1986. His one-year internship was spent at District of Columbia General Hospital, a Level 1 Trauma Center. He then completed his additional years of residency and received his certification in oral and maxillofacial surgery from the District of Columbia General Hospitals, Howard University Hospital, and the Veterans Administration Hospital of Washington D.C.
Immediately following his residency program, Dr. Garden entered private practice in December of 1989. Dr. Garden started with a very small office located in Arnold, Maryland. Over the years, the practice has grown and he is now located in Severna Park, Maryland. This new facility is state of the art with the most recent technology available and comforts that can be offered to the oral surgery patient. Additionally, this facility is the home to Chesapeake Dental Implant Institute. This is a nonprofit educational institute that is dedicated to educating the dental and medical community in Anne Arundel County and surrounding areas. Dr. Garden and his team have issued well over 1,000 hours of continuing education to the dental community.
He remains very active on the medical staff at Baltimore Washington Medical Center. He also has privileges at Anne Arundel Medical Center in Annapolis. He has been the Chief of Oral and Maxillofacial Surgery for the past eight years at University of Maryland Baltimore Washington Medical Center. Dr. Garden stays very busy since he provides emergency room coverage 365 days a year at Baltimore Washington Medical Center. The medically compromised patient has always been welcome in his practice. Dr Garden will often treat the very ill patient in the hospital setting. These patients often times find it difficult to find a provider.
Outside the office, Dr. Garden can be found on his working farm in Davidsonville, Maryland. He is a partner in Eco-Goats.com Inc. His farm is the home to over 150 goats that are used for vegetation control throughout Maryland, Virginia, and Washington D.C. You can occasionally find his goats in the Philadelphia area and sometimes even further north. He also enjoys tending to his donkeys, steer, ducks, chickens, cats, rabbits and dogs. The most recent addition to his farm is his two heritage American Guinea Hogs. Most important to Dr. Garden is his wife, Shannon, and their three children. Shannon can be found coaching or officiating either field hockey or women's lacrosse most any day. She coaches at the county, club, and high school levels. Lacrosse and field hockey are his children's passion. He and his wife Shannon have established a private park at their home, which is the training facility to Integrity Lacrosse Club. Their two lacrosse fields provide field time to over 200 young ladies each and every week throughout the year. Cutting grass and lining fields is not necessarily a passion of Dr. Garden's, it's a chore! Dr. Garden feels very blessed to have such a supportive family and success over the years. He will tell you that he awakens each and every morning looking forward to providing the dental needs of the community every day.
---